U ULTTY
Regular price
$209.99
Sale price
$159.99
Unit price
per
Sale
Sold out
Bladeless Fan Technology: Preventing children and pets from fast-spinning blades accidents. Created super smooth breeze, provided ultra comfortable cooling and also friendly for babies. Really easy to clean.
Lower Noise, More Serenity: Ultty bladeless fan adopts a unique air-duct design with fluid mechanics and minimize noise. Brings a comforting, cool, and ultra-quiet breeze, the LED dims after 2 mins while 8 H timer kicks off, giving you 12 hours of good sleep or deep nap at a noise lower to 32dB.
Perfect cooling fan: 3-mode & 9-speed settings, air outlet 30° adjustable, 90° wide oscillating fan with sleep timer. Control by LED touch-screen or remote control. Easily set up and precise adjust for your comfort.
Better room air: cover up to 320 sq.ft. room, filtered whole room air 5x per hour. Improves airflow in your room while quiet cleaning the air(noise<32db), make your room air fresh all the time. Pefect fan for bedroom, office, dorm, baby nursery.
Genuine Replacement Filters: search "B088B921NQ" on Amazon. The replacement filter should be replaced every 3-6 months depending on the air quality in your area. Remote Battery Model: CR2025

When the air in a room is too thin, it can be harmful to your health. A good fan helps to circulate the air in your room and increase the airflow, which can help to decrease any respiratory issues you may be experiencing. It can also help to improve your sleep, making it safer to spend more time in bed. Bladeless fans are easy to install and can help improve the quality of indoor air. ULTTY bladeless fans to consider installing to improve your sleep.

Wider Air Flow Circulation: This oscillating Bladeless tower fan effectively distributes ample air circulation to bring airflow to your room faster thanks to its wide 90° angle oscillation and air outlet 30°. Offers a continuous, refreshing breeze that keeps everyone in the room comfortable on hot days.
Certified for Safer: Energy Star Verified, Complies with California air resources board (CARB) for indoor cleaning devices.

Included Components:1 × Remote Controller ( Include 1 × CR2025 Type Lithium Battery ), 1 × Tower Fan, 1 × True HEPA filter,1x instruction manual
View full details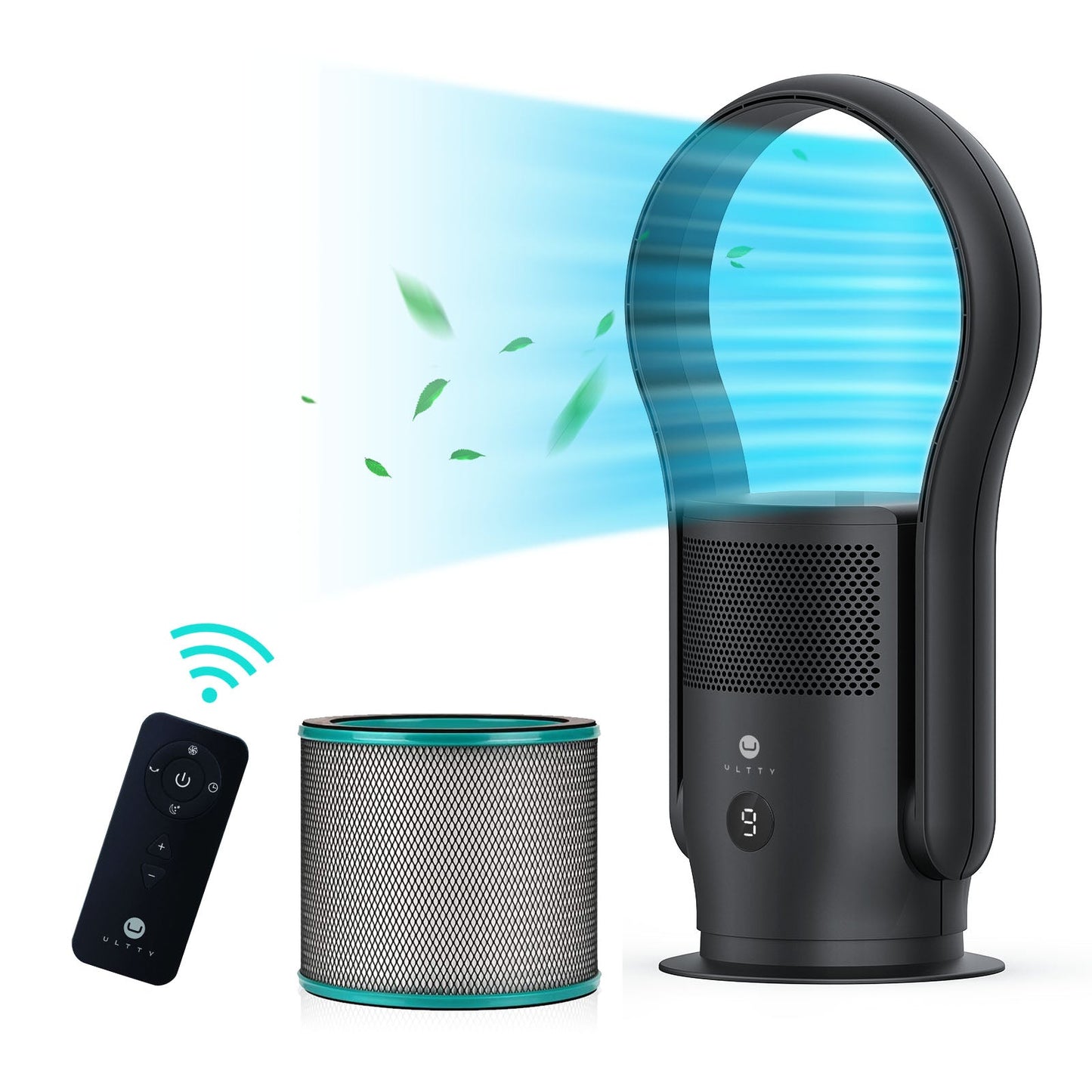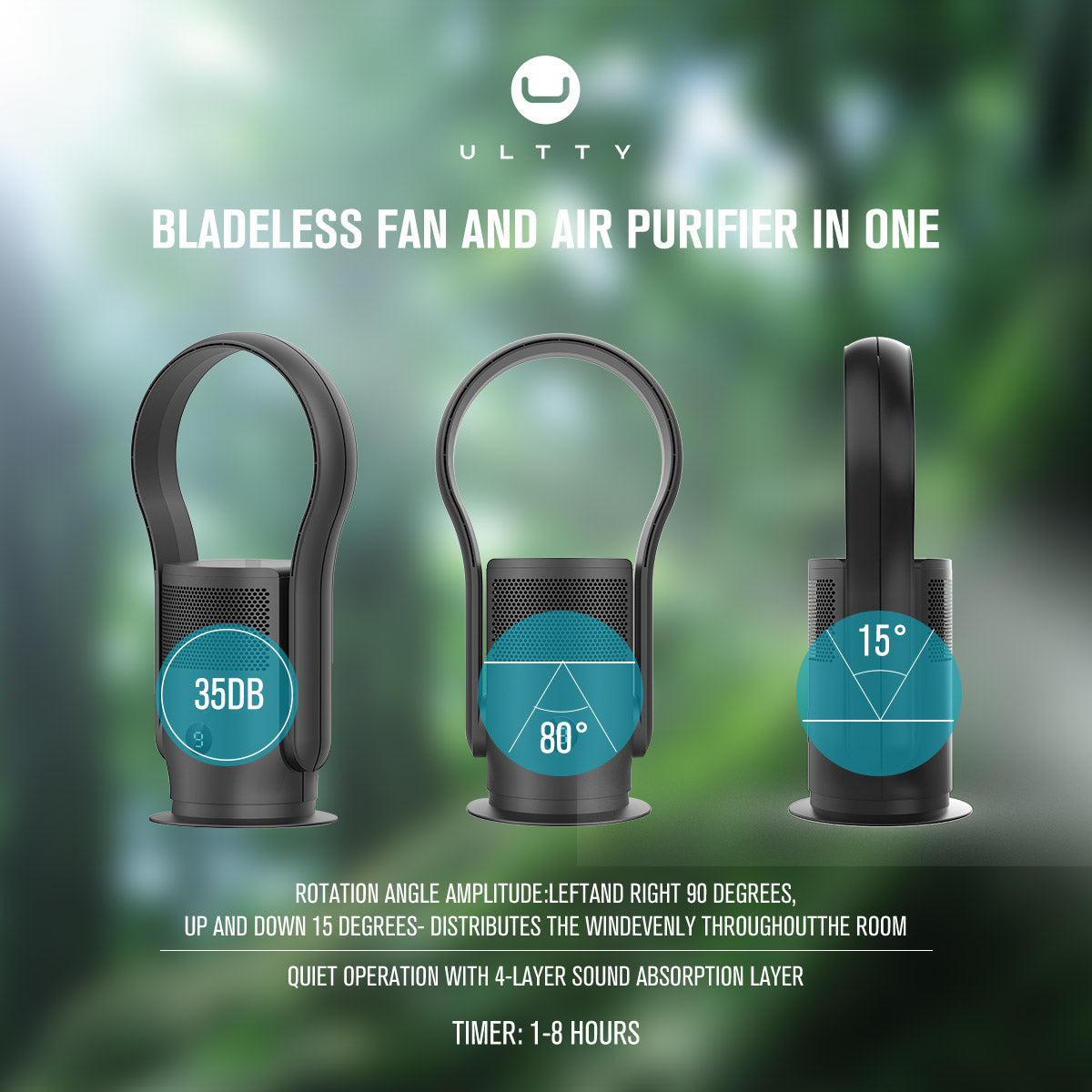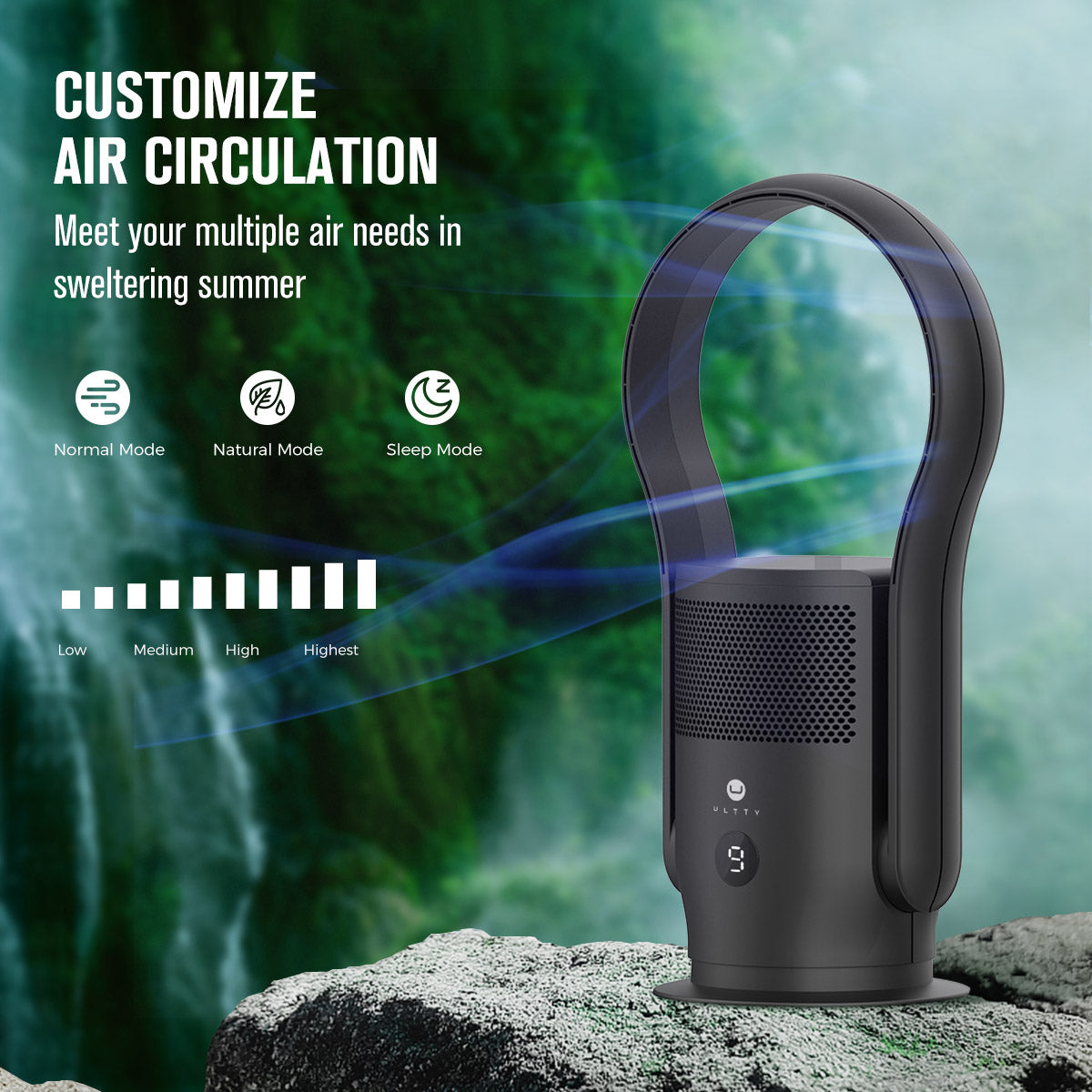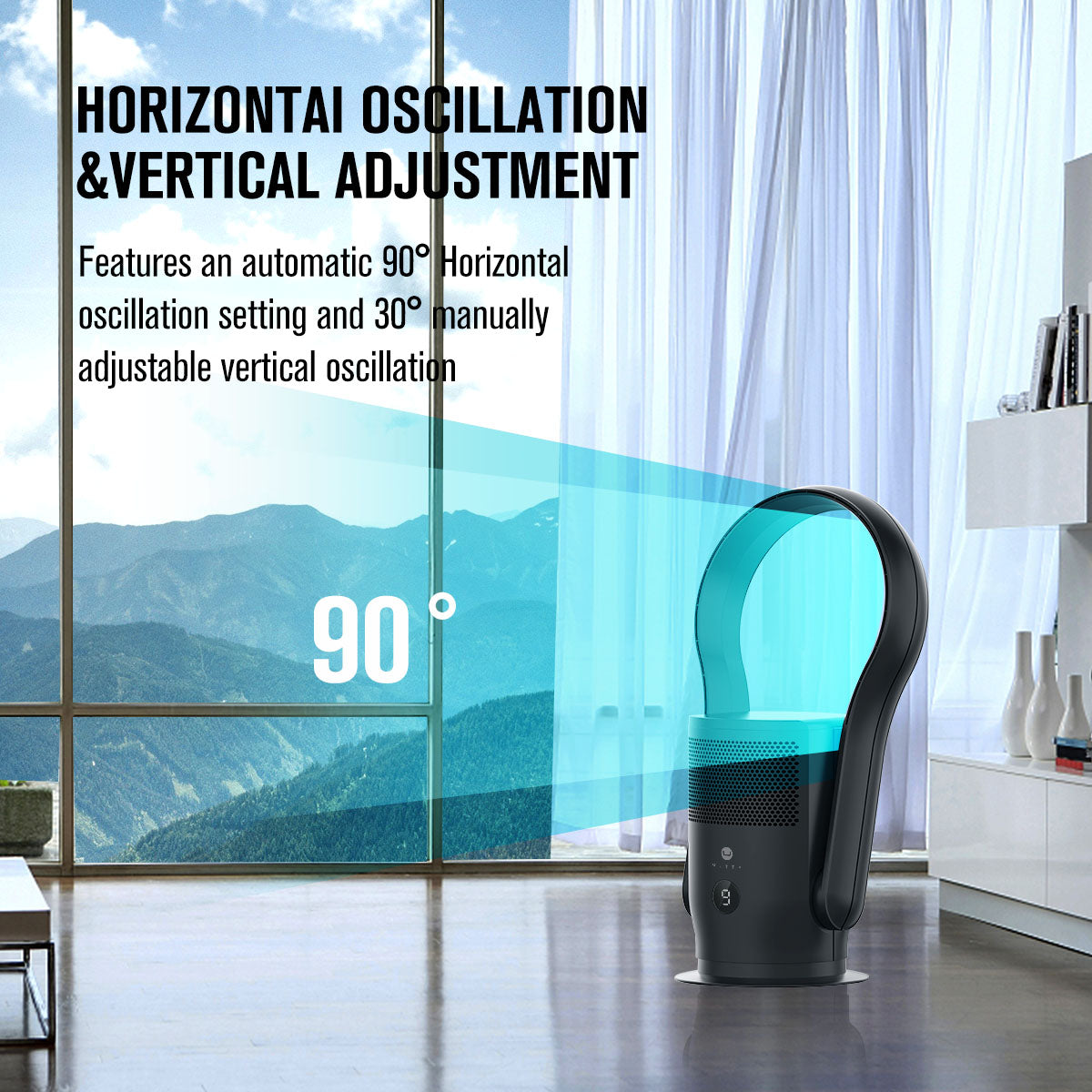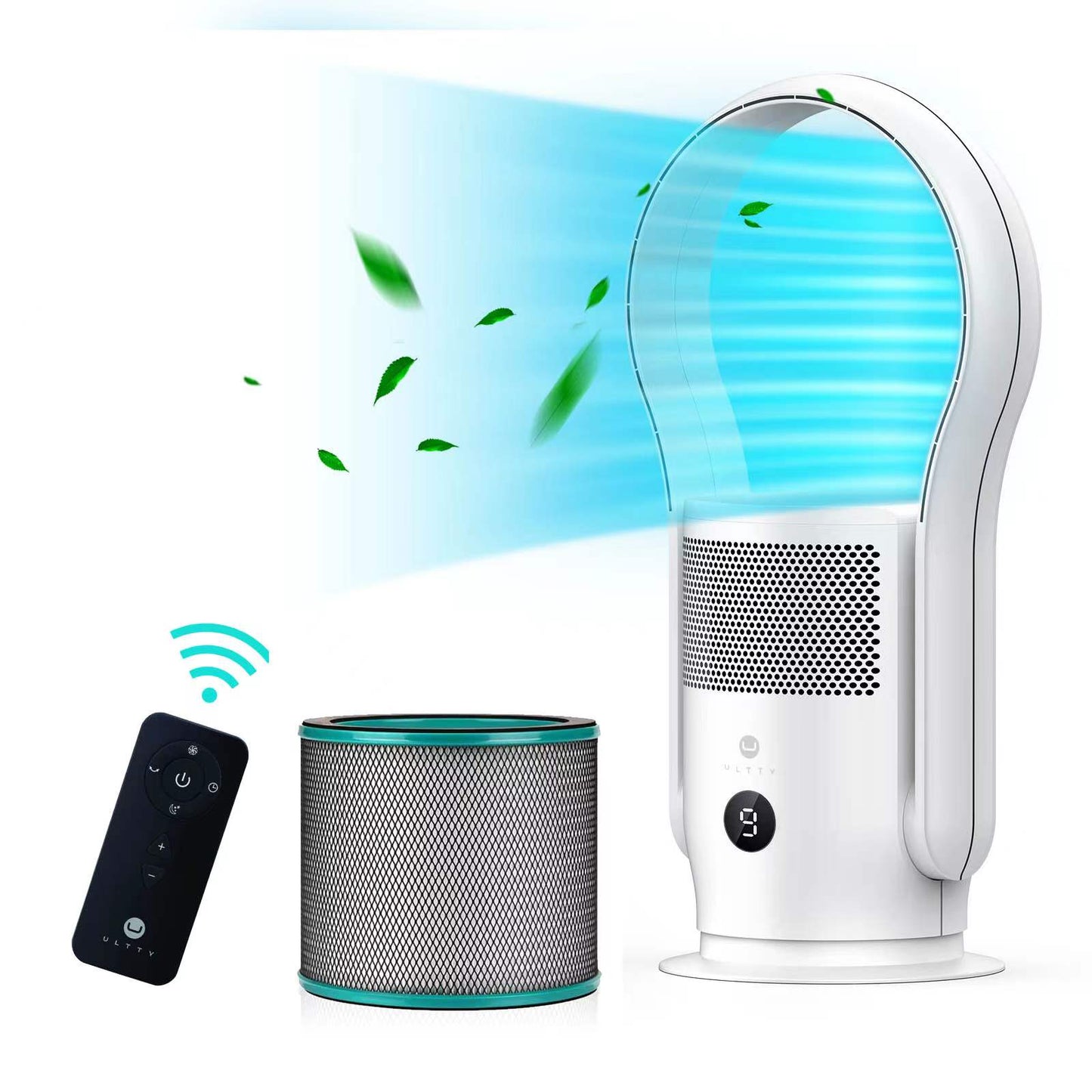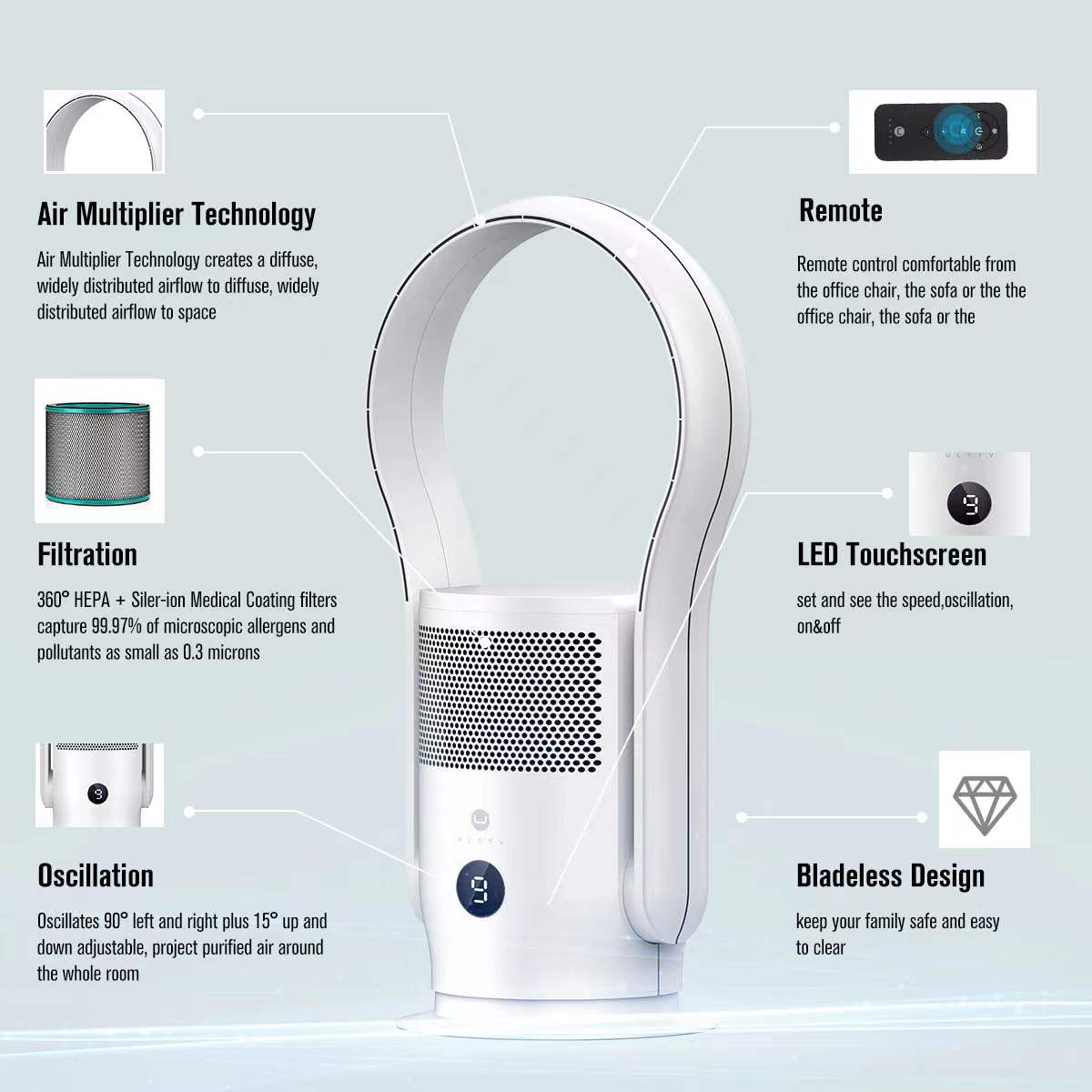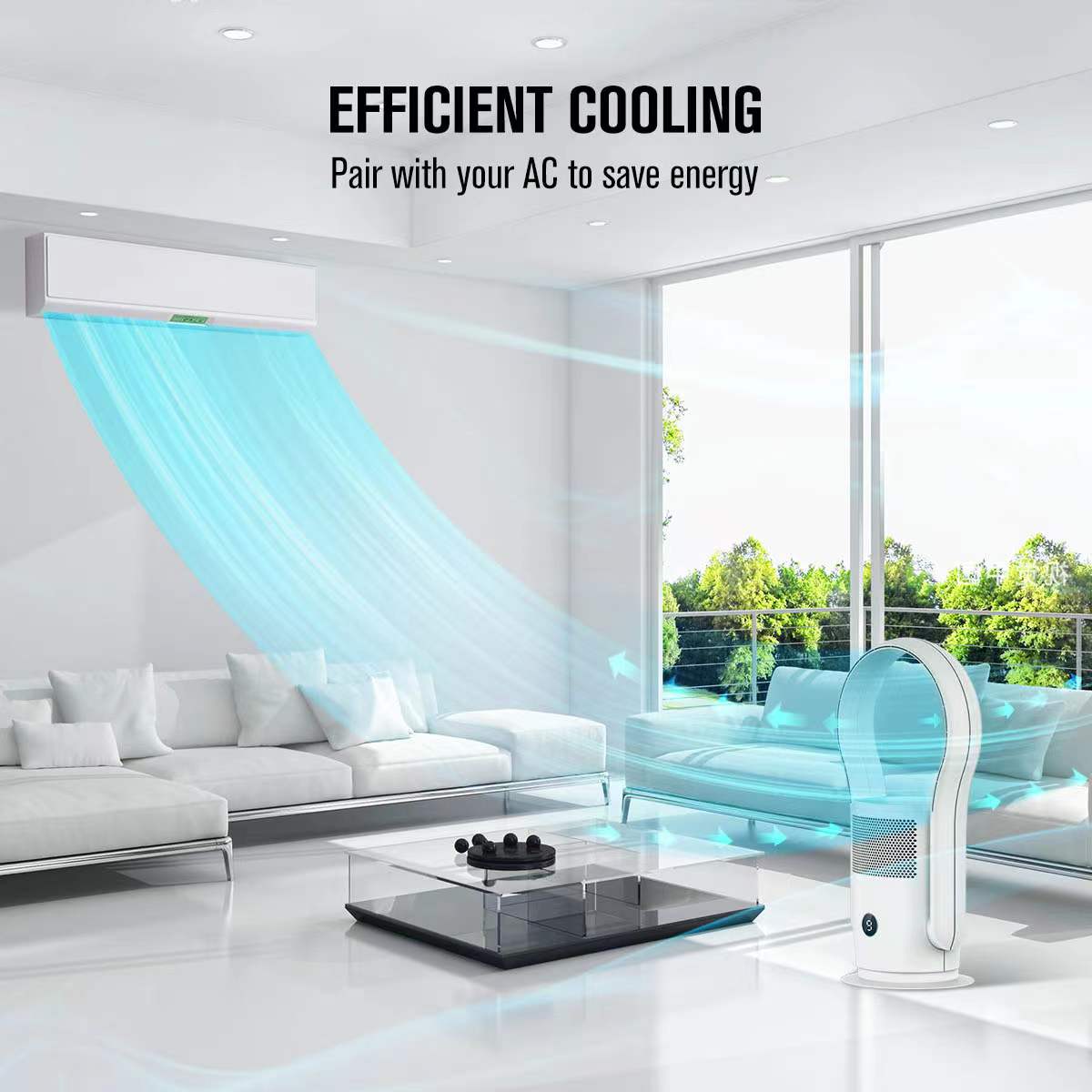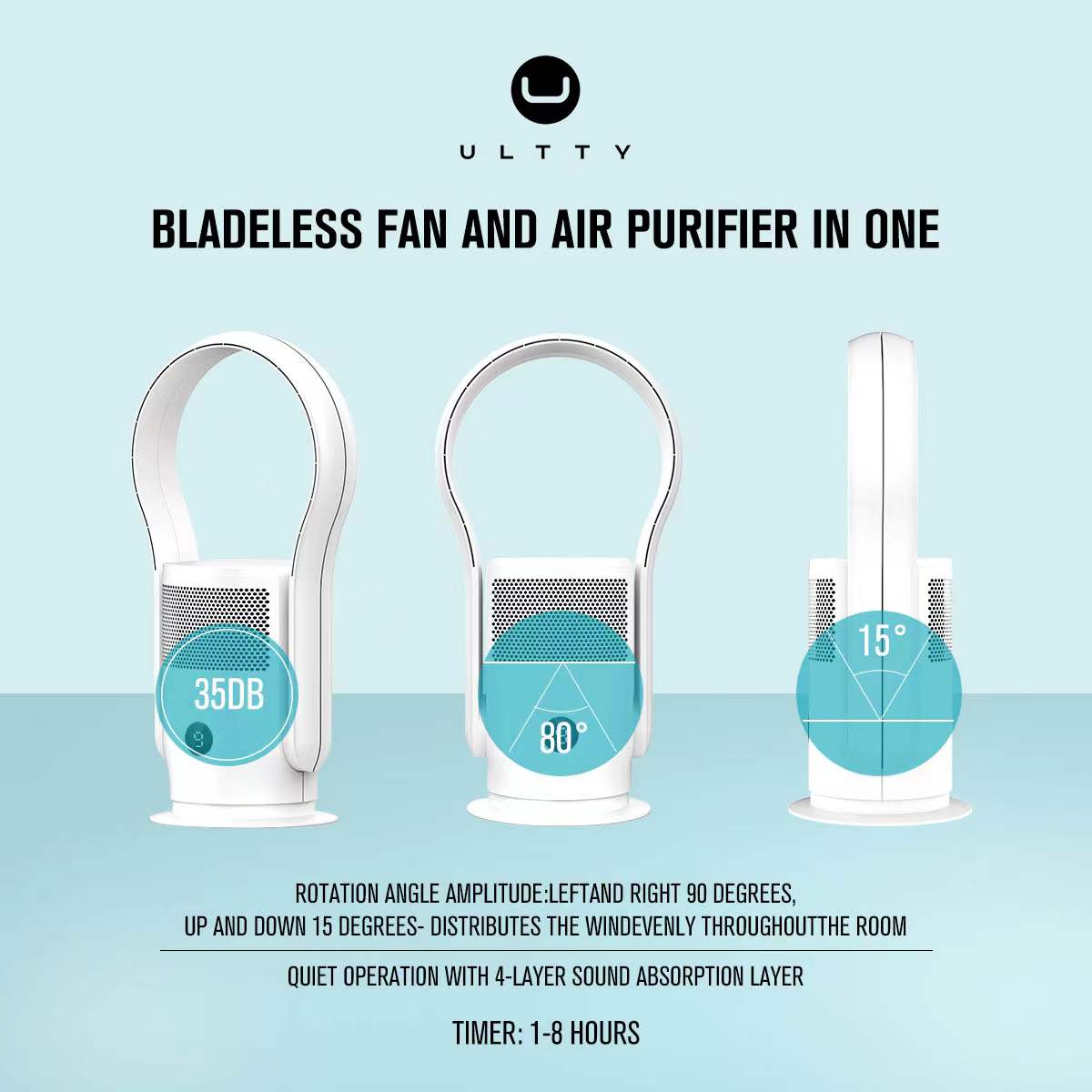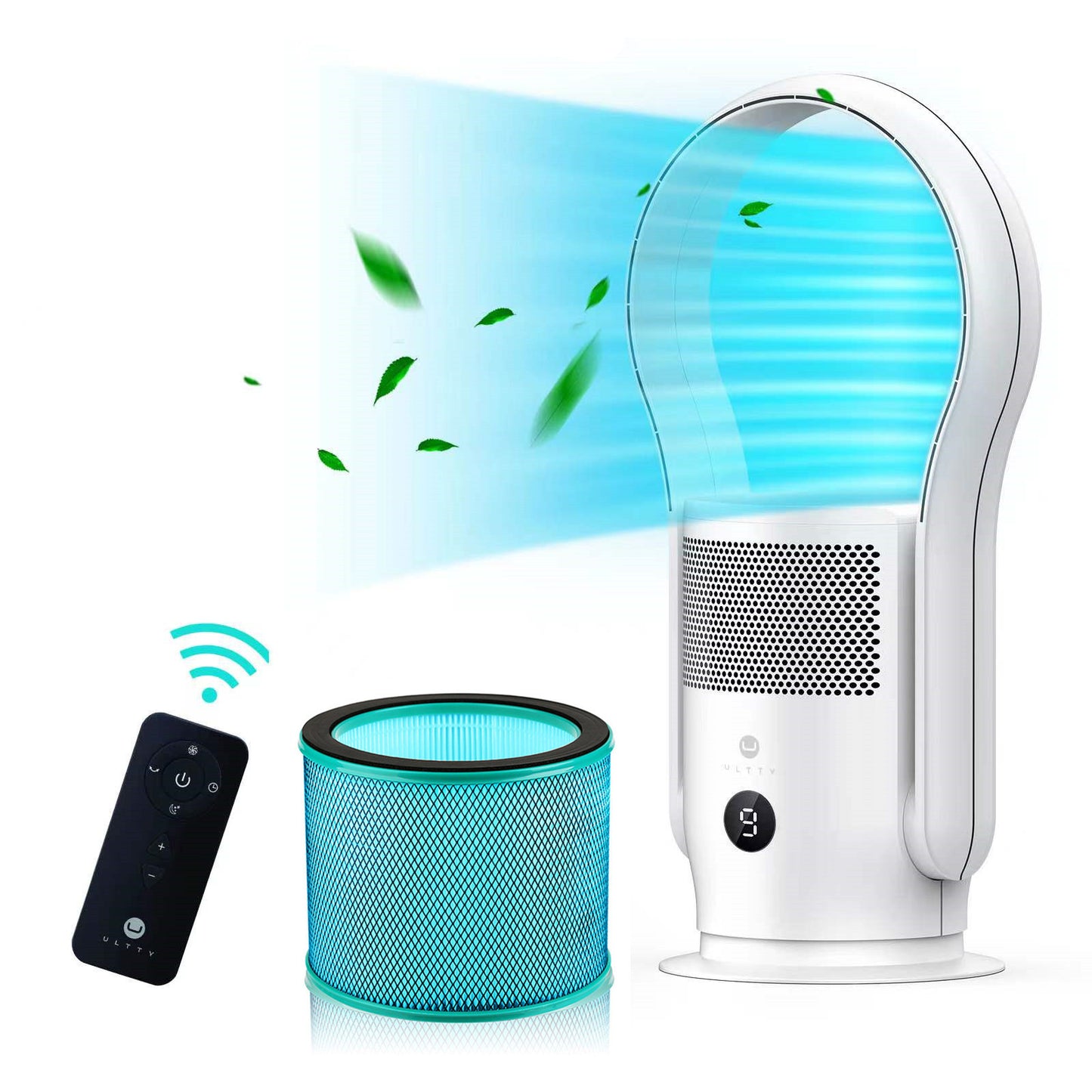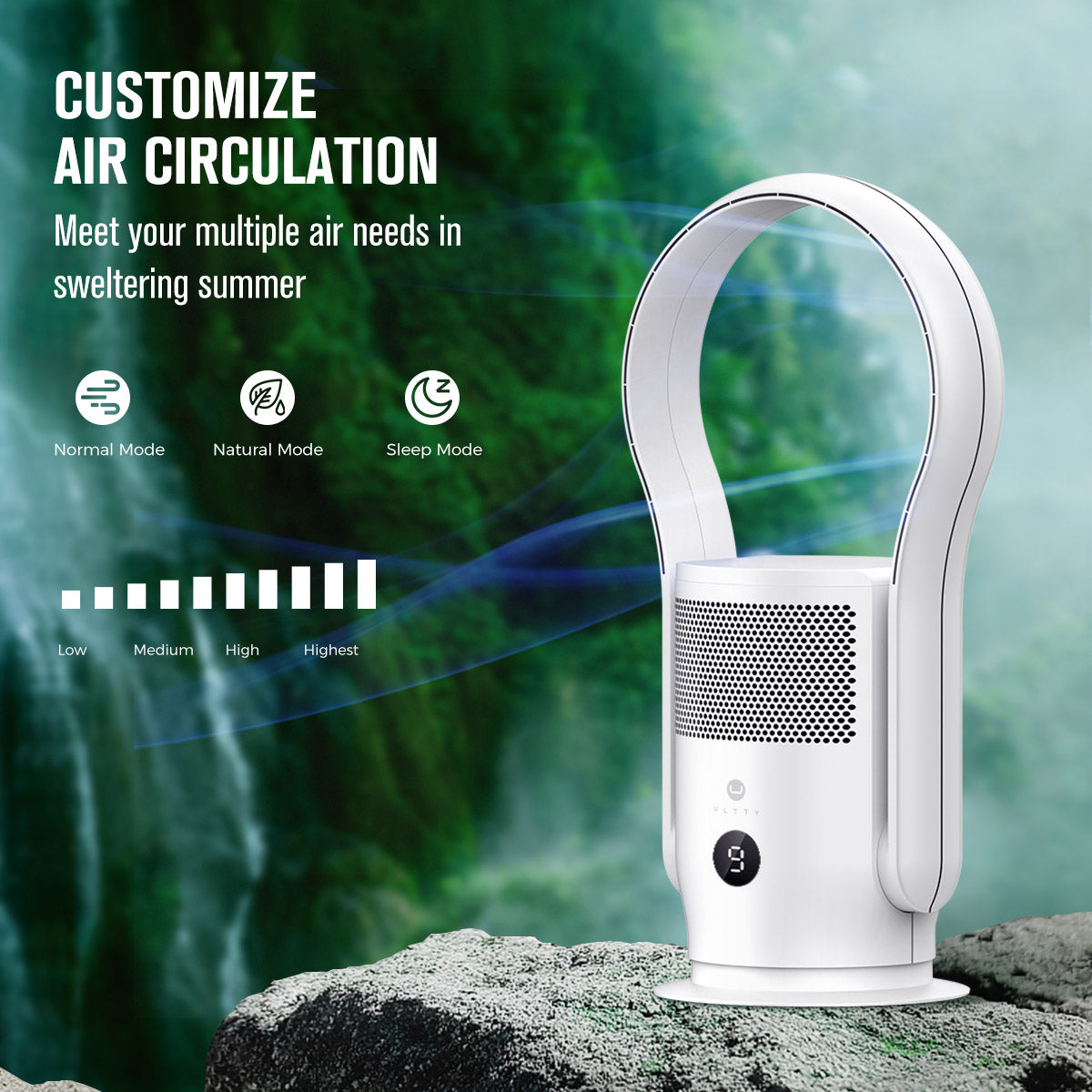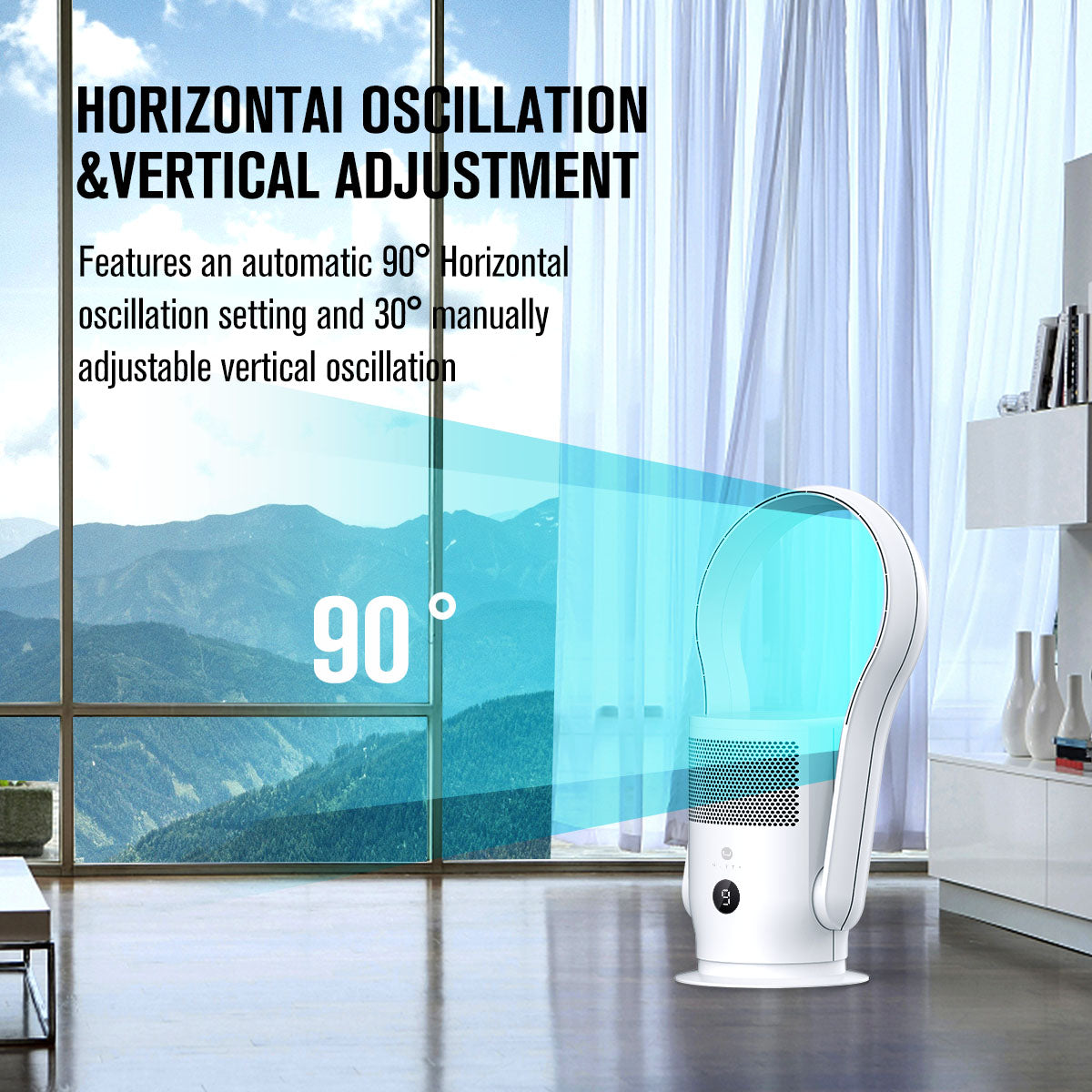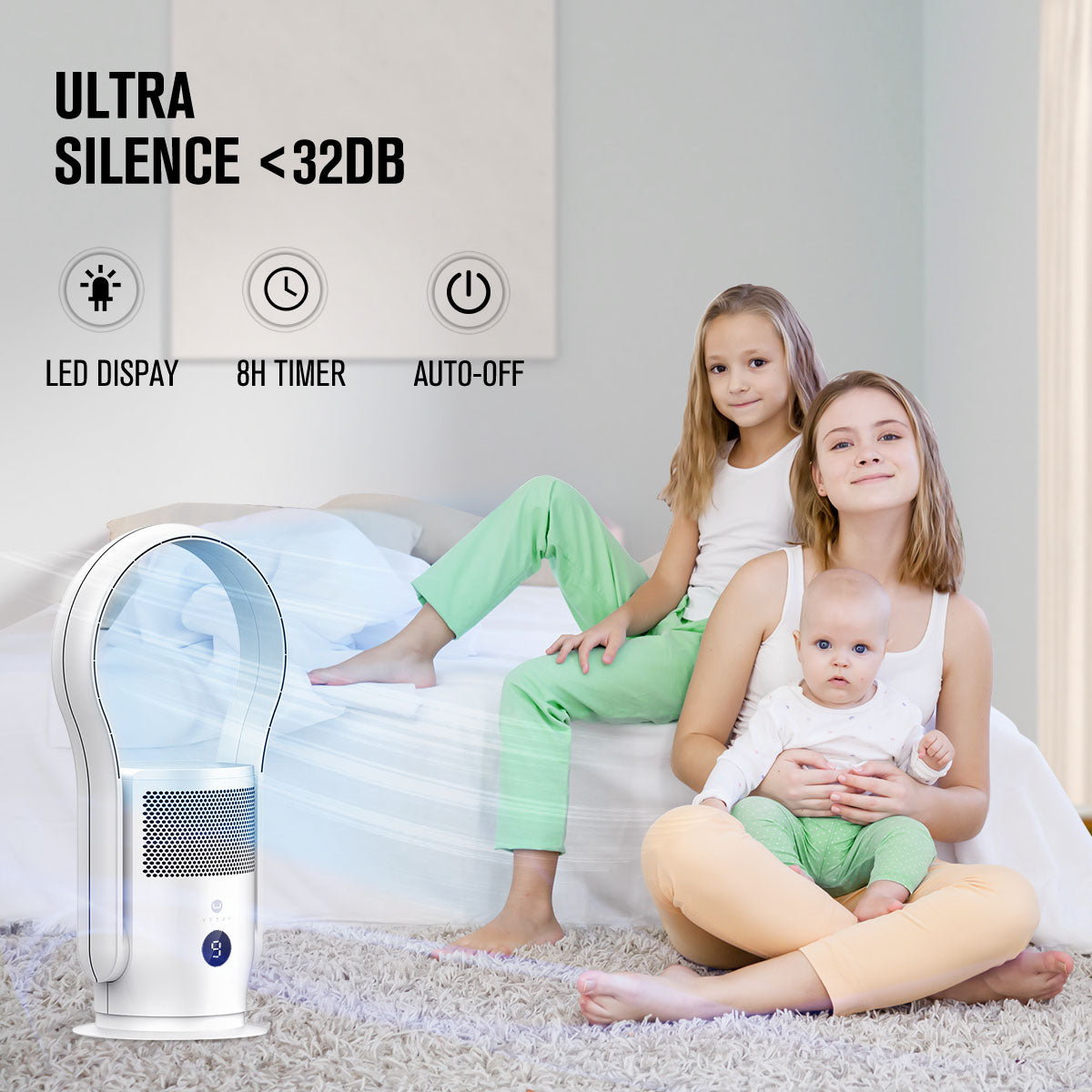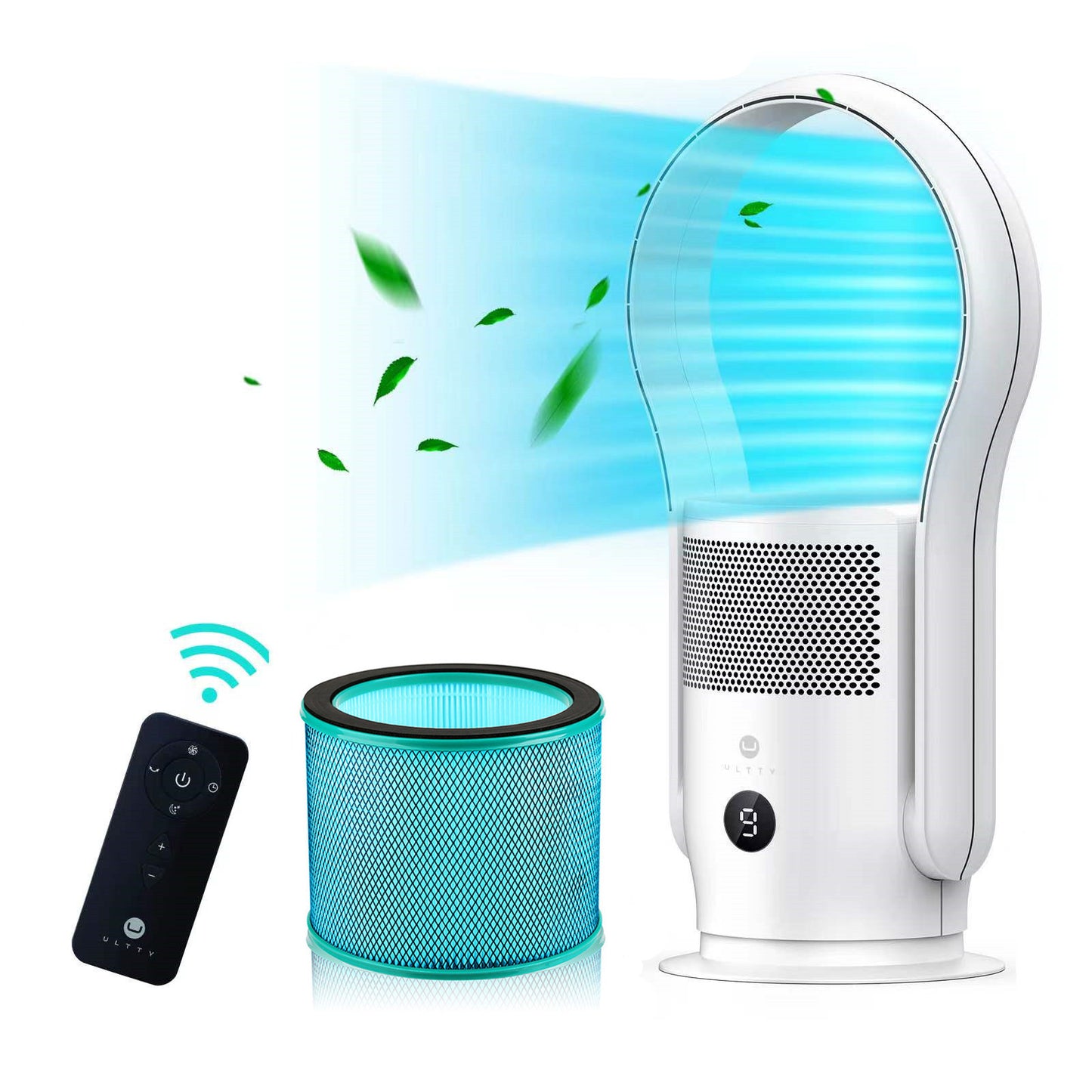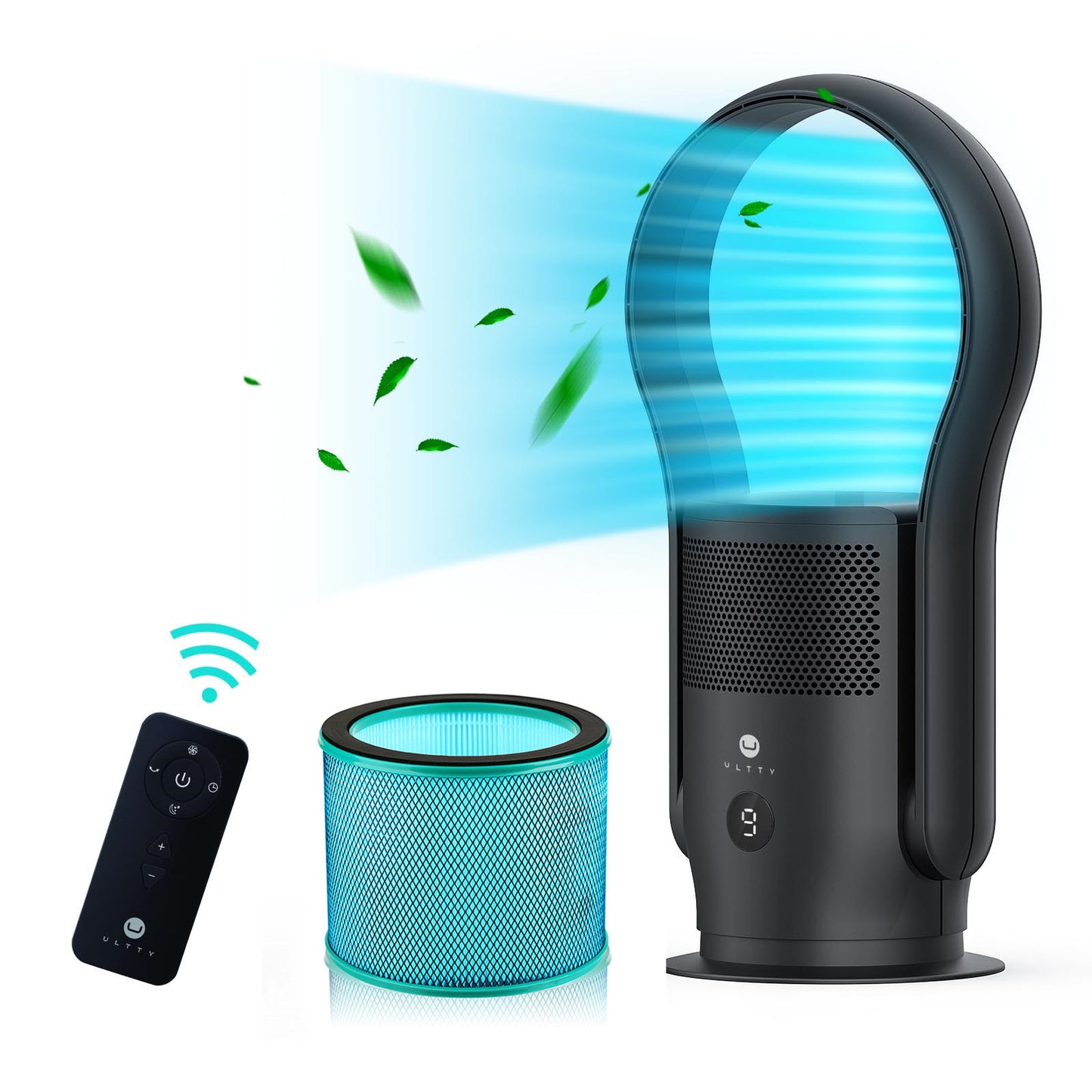 Product Description
ULTTY was founded in 2001 in LA. We aimed to provide good small appliances, fans, and household portable heaters. After 20 years hard work, innovation, We run our business in 12 countries and we have over 5 million customers worldwide.
ULTTY do manufacture, freight and sell direct, provide the best value.
Customer questions & answers
Q:What is the dB noise level at the different speed settings?
A:At 1-5 speeds, you can hardly hear the noise. At 6-7 speeds, the dB noise is less than 20. At 8-9 speeds, the dB noise is 25-35.
By Teacher/Mom on August 12, 2021
Q:How often dies the filter need to be changed? We area Non smoking/no pet home
A:The filter is expected to last 3 to 6 months. It depends on the size of the room and the speed you set the fan to. The bigger the room and/or the higher the fan speed the quicker the filter will wear out.
By Gregory Borges on August 20, 2021
Q:Would this be enough to keep a room comfortable in summer without a/c?
A:I would have to say for me, it would have to be... No. I am a heavy dude and like my cool air in the summer. It does cool myself down quite a bit. I some times put it in the window to bring in the cool air at nite. It has worked real well for me. But I do use it in conjunction with the air conditioning. I enjoy my fan.
By Greg E on May 17, 2021
Q:Is the fan ozone free ?
A:HEPA filters – These filters are designed to remove 99.97 percent of all particles that are 0.3 microns in diameter from the air. While they are not effective against odors, VOCs or other gaseous pollutants, they do not produce any ozone. ... Carbon filters are completely ozone-free
By Greg E on September 11, 2022
Q:How do you turn on the air Purifier?
A:When the unit is turned on the air is pulled in through the filter then goes out through the fan. That's how it cleans the air.
Kathy S · August 8, 2021
About US
ULTTY: a supplier of bladeless fan and vacuum sealer with exclusive air multiplication technique. To date, ULTTY bladeless fan has applied for 34 worldwide utility models and appearance patents patents. We fully integrate product design, production, sales, installation, and customer support in our effort to provide affordable.
In order to be in line with "quality first, constant improvement, long term cooperation", our team serve our customers heart and soul ,and offer as much help as we can to make the customers happy and satisfied with our company. We appreciate for the support from customers, we promise to give you the best quality products and the best service in return!
We welcome you to visit our factory and give your valuable suggestions.
We persist in "Honesty Management and Perfect Service", taking the market as guider, the talent as foundation and the innovation as means to obtain leap-forward development.Meanwhile all of us expect to cooperate with more customers in wider fields, leading to brighter future between us.